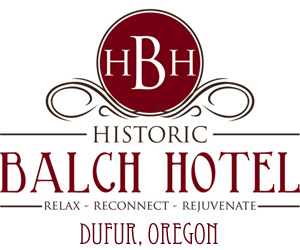 95.7 My FM is Central Oregon's official Weekend Getaway station! Listen for the Song of the Day, every Friday morning at 9:05 am.  When you hear it play again sometime before 5pm, be the 5th caller at 541-330-MYFM(330-6936), tell us the artist and title, and win! 
This week's Weekend Getaway winner will truly get away with an overnight stay at the Historic Balch Hotel in Dufur.  You and a guest will enjoy overnight accommodations in a traditional European-style room and indulge in a fabulous continental breakfast in the morning.  Just two hours from Bend, The Balch is perfect for outdoor weddings or family gatherings, or a romantic getaway for two.  Don't miss the final night of their Summer Concert Series on Saturday, September 20th! Visit a nearby winery or take a bike ride through some of Oregon's most amazing scenery – whatever you choose, relax, reconnect and rejuvenate at The Balch!  
For complete contest rules, CLICK HERE.