Tune in Friday at 9:05 a.m. to hear the Song of The Day. When you hear that song again before 5 o'clock, just be the 5th caller at (541) 330-MYFM and win the Weekend Getaway!
This week's Weekend Getaway winner will visit The Geiser Grand Hotel, your luxury basecamp to explore the wonders of Eastern Oregon. Just four hours away but a million miles from ordinary!
Experience The Geiser Grand Hotel, standing proudly on Main Street in historic Baker City since 1889.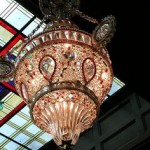 Over one hundred crystal chandeliers sparkle in this romantic castle.
You'll enjoy incredible food, good spirits, affordable prices at The Geiser Grand Hotel. Call toll free 888-G-E-I-S-E-R-G.
Listen for the Song of the Day this Friday for your chance to win this fantastic Weekend Getaway from Bend's Best Variety 95.7 MYFM – Your Home For More Music Mondays!
For complete contest rules, CLICK HERE.